DURA-TAC

Rotary Actuators
SRA-Series

DURA-TAC SRA Series of rack driven rotary actuators provide a durable and compact approach to automatic work rotation.
FEATURES
DURA-TAC SRA Series have a compact, square body design to allow use in tight space applications. The output table is supported by two bearings to provide high loading capacity and a steady durable unit. The rack and pinion design provides zero backlash rotation in both directions and creates high torque and fast cycle times. Built in, adjustable hard-stops provide accurate rotation and prevent pinion damage. The bodies are sealed and require no lubrication. The units are fully field serviceable with available seal kits to reduce unwanted downtime and costs. The series also has available sensors to monitor rotation.
MOUNTING STYLES
DURA-TAC SRA Series can be mounted and located in any plane with provided mounting holes and dowel pin holes. The main body contains both tapped holes and counterbored clearance holes for cap screws. The rotating table has tapped holes for mounting and slip fit dowel holes for location.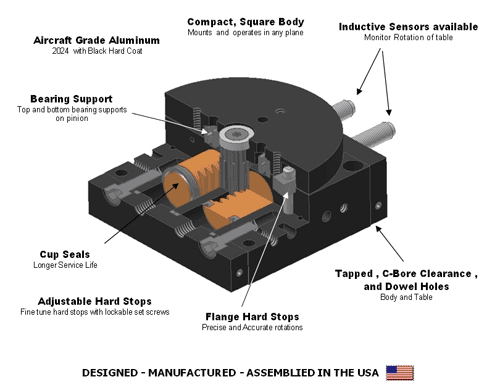 The SRA series of rotary actuators are perfect for
any applications where precise and repeatable rotary motion is required
Compact, square body design to provide mounting in any plane and the ability to be used in tight space applications

Bearings on both sides of the output flange provide high loading capacity and a steady durable unit.

Zero backlash at either end of rotation

Built in, adjustable hard-stops designed to give accurate adjustment and to prevent pinion damage

High torque unit provides fast cycle times

Sealed unit requires no lubrication

Fully field rebuildable to reduce unwanted downtime and costs

Sensors available to monitor rotation

Available in American or Metric