DURA-THRUST

Linear Thrusters
LT-Series

DURA-THRUST LT Series of Linear Thrusting Devices provide industry leading quality and
durability for automatic working positioning/holding. The LT series is designed for high demanding
applications where precision and durability are required.
FEATURES
DURA-THRUST LT Series is internally powered by fully field repairable air cylinders. The slide
bearings are oil impregnated bronze bushings. Rods are bolted to the end blocks to assure positive
location and rigidity. Adjustable shaft mounted locking collars with nylon bumper pads allow
easy setup and provide low noise level minimizing the clatter inherent in fast acting slide devices.
Furthermore the entire LT series is sensor ready.
MOUNTING STYLES
DURA-THRUST LT Series units can be mounted and located in any plane with provided mounting
holes and dowel pin holes. The main bodies contain counterbored clearance holes for cap
screws and optional tapped holes for mounting with dowel pin holes for precise location. The
end blocks contain tapped and dowel pin holes for easy adaptations to additional work moving/
holding devices or customer tooling. Optional end blocks are also available for mounting 2 units
together.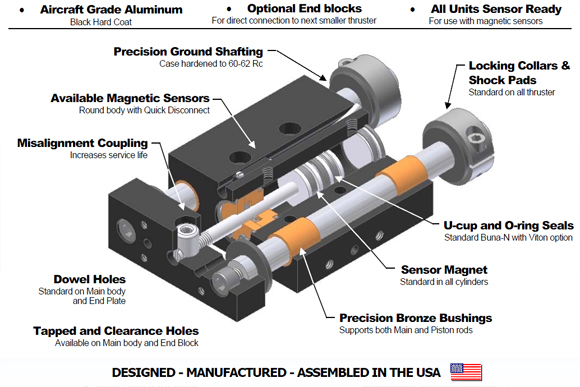 The LT series of linear thrusters is perfect for demanding applications
such as part assembly, part stops or location, lifting tables, and clamps.
SPECS
LT-1

BORE DIA - 0.437" [11.1mm]
ROD DIA - 0.250" [6.35mm]



LT-2

BORE DIA - 0.562" [14.3mm]
ROD DIA - 0.375" [9.5mm]



LT-3

BORE DIA - 0.750" [19.1mm]
ROD DIA - 0.500" [12.7mm]



LT-4

BORE DIA - 1.125" [28.6mm]
ROD DIA - 0.750" [19.1mm]


With free Acrobat Reader® software, you can view and print Adobe PDF files.